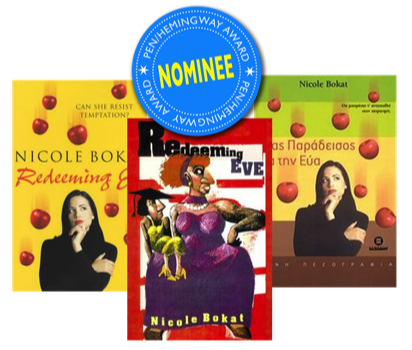 Redeeming Eve

Thirty-year-old Eve Sterling is a 90's woman with a hankering for the 18th century. A literature scholar writing her thesis on Jane Austen, Eve lives alone in Manhattan, eclipsed by her domineering mother, Maxie, who doubts she'll ever find a man to rival her beloved fictional heroes. When a friend sets her up with Hart-- a funny, gentle photographer -- Eve simultaneously discovers her true love and loses control over her own fate. Eve aims to achieve a choreographed, graceful existence, one modeled on the elegant world portrayed in Austen's novels. But, in a series of both comic and painful mishaps, she learns just how clumsy and chaotic real life can be. Irrevocably changed by marriage and motherhood, Eve struggles to reconcile contrasting allegiances: those to herself versus those to her family.
Publishers Weekly
It is the modern woman's challenge to juggle career and family, and Bokat's likable, amusing characters struggle gamely to survive the contemporary conundrum, attempting to fit messy life into neat little packages. . . . Bokat serves up an ably written tale complete with an Austenesque happy ending.

Copyright 2000 Cahners Business Information.
Kirkus Reviews
A 1990s woman is torn between her family and her career, and fills it with compassion, good humor, and an abundance of angst . . . . Eve may never be able to resolve her internal and interpersonal pressures, but the author, through her deft usage of Jane Austen quotes throughout the text, makes us realize these are not problems restricted to the contemporary woman. Newcomer Bokat sketches her characters with broad strokes...they're finely drawn with humor, sensitivity, and a dash of chutzpah. A fine debut.
McCalls (June 2000)
When a literature scholar tries to model her hectic Manhattan life on the elegant world of Jane Austen, chaos ensues. A juicy book.
The Bloomsbury Review
"Bokat creates a believable and interesting character in Eve Sterling, and a lovable romantic hero in Hart Orbach. . . . Their romance is lightning-fast, sloppy, and vividly real. Weighing the calculated pursuit of academic excellence against the spontaneous joyride of life and love, Bokat sheds full light on both paths, illustrating the joys and sorrows of each."
Leah Cohen
A scrumptiously witty, suspensefully woven story full of sharply drawn characters, calamities, and a surprising measure of hope.
Alice Elliot Dark
A clever, interesting and fun take on the dilemma of the modern woman. I loved the way Nicole Bokat portrayed both academia and the mixed blessing of an ambitious woman having an even more ambitious mother. Redeeming Eve is that rare find, a fast read with depth.